"Over the last ten years, I have tried many forms and techniques of trauma work and therapy to ultimately heal my early-childhood traumas and recurring past-life imprints. Probably with moderate success. However, working with Tamar and the expansion technique allowed more sustaining progress of healing in all of my systems within just two months than I have ever experienced otherwise before.
For me, the expansion technique is one of the greatest and simplest tools of dealing with trauma, unpleasant and limiting feelings and emotions, sensations of meaninglessness and many others. I feel a deep, deep humbleness towards this technique and the power of the Expansion as it enables each of us humans to free ourselves from whatever is limiting us and directs us to become the best and strongest version of our innermost being on all levels – physically, mentally and spiritually.
Tamar has been a God-send and working with her has been an empowering and enlightening experience. I would highly recommend Tamar's work to everybody wanting to break through old patterns and belief structures to pursue him/her authentic best self, to take charge of the unlimited capabilities of one's being and to contact his/her ultimate divine essence."
"Tamar, with her big heart, deep understanding, compassion and patience, created for me in our meetings a space of growth and empowerment. I use her advice, expansion skills and wisdom to live freely and communicate so it builds trust and cooperation, not only with my husband, my colleagues and my customers but also with my very old parents.
I believe that we need, in such a time in which we live no more in communities but in cells of partnerships and families, the wise one that can guide us to see what we can't see for ourselves and to heal our connections from within. Tamar teaches me every time how to lead my relationships forward, with attention, knowledge and joy".
"I would like to thank Tamar Brosh from the depths of my heart for giving me the chance to participate and – in the same way – to help at the Expansion Method Training. It was a wonderful experience, learning and growing for me on my path. The way Tamar guided this training was so clear, profound and warm-hearted. It touched me a lot. I learned so much, not only the method itself and the rich wisdom which lies behind it but also my heart and personal growth during the seminars deepened and developed truly.
I recognized for the first time in my life I really can allow myself to trust my inner strength and follow my heart and intuition to be there for others. I always have been hiding and didn't believe that I could do something so good for others. I was always so insecure and full of doubt and fear. Through the feedback, I received after guiding an Expansion, something new opened inside my heart."
"I was experiencing a difficult time in my life and a low state of mind, when a friend gave me Tamar's contact details, together with a warm recommendation. I contacted Tamar and started a series of meetings. Tamar has been very pragmatic, understanding, professional and was able to focus immediately and directly on the issues I've had, in a very clear way. Within a very short period of time, we were able to deep dive into and tackle some very complex challenges. The meetings were also very emotional for me. Tamar's most important trait, which I greatly appreciate, is that I felt that I was not just speaking and discussing my needs and difficulties with a healer or a therapist, but also with a friend and for this I am very grateful."
"Tamar is a wise, deep, sensitive and intuitive woman and her mastery in emotional transformation and mastering relationships is absolute. She combines a brilliant ability to analyze and conceptualize with highly methodical, comprehensive and rare precision. 
When she works with the expansion method and other tools and adds to that her humor and interesting and humble personality, she enables me to go through a powerful transformation process."
"Tamar is a very skilled therapist. She is very patient during the expansion sessions and I felt safe, working with her the whole past year. I came to her through severe lack of self-confidence, depression and anxiety. I had just left a psychiatric hospital and no therapies had really worked all my teenage and adolescent years. I thought I was a hopeless case until I came across the Expansion method and through that to Tamar. Within 2-month, tremendous changes happened in my emotional and mental body, I felt more able to make plans, to be alone, to build my life. I felt love for the very first time in years and I managed to stay centered (with Tamar's help), even during a difficult break up recently. Right now, I feel strong enough to face some further challenges alone, which would have never been the case before I met her. She really knows how to prepare you to be strong enough for yourself and to build trust in your abilities to manage life. I am beyond grateful for all her wisdom, support and love she gave me and many others will benefit from her knowledge.
What would have taken me probably a lifetime with "normal"  therapies, took me 10 months with Tamar. And even in these ten months, I experience so much joy and light, it felt so different from what I was used to in classic psychotherapy. You look at trauma and instantly heal the wound, and don't just rip it open by talking about it. Thank you, Tamar, for everything. "
"My journey with Tamar was surprising and amazing. Tamar led me with her expertise, directness and skill towards dark places within me and helped transform them completely. As we went along the program, I felt myself relaxing on one hand and growing in power and confidence on the other hand. I had many deep insights about myself, my life and my choices and felt a great shift in my point of view. From feeling like a victim, especially when it comes to romantic relationships, I finally received an inner confirmation that it is just as well to be alone. As we went deeper, I started to understand my role and purpose in the world from a more stable and mature place within and feel a sense of peace and joy I didn't know before. For me, Tamar is a kind, loving, powerful, confident and mature woman, the kind I wanted to become myself. With her guidance and unwavering presence, I felt I could take the necessary steps towards becoming the powerful woman I could be and I am deeply grateful. Thank you, Tamar, for believing in me even at times when I was doubting myself and thank you for mirroring me the highest version of myself. This process was and still is very meaningful to me."
"The trauma-expansion training course (developed by Shai Tubali) was a really wonderful and very informative process. Tamar Brosh has brought in all her deep knowledge and her depth and love for this method. As a participant in the training, I can speak on the one hand about the expansions I have led – the results were just unbelievable. It was deeply moving to observe how the process of trauma release with the Expansion had transformed the deep wounds and imprints of the guided people into full mental health. They felt afterwards free and could talk about the previous traumatic situation in a completely neutral healthy way. They no longer saw themselves as victims or perpetrators but as an observational and free consciousness. To be a part of this transformative process is also a great joy for the instructor in the method. As far as myself is concerned, in the position of the guided one in the expansion, I first learned that only I alone need to value myself. Then, along with the further sessions of trauma healing, the previous life-theme that caused me much friction, namely, the concern to be valued from the 'outside' simply dissolved. It's just not an issue anymore. I am just there, being peaceful in myself.
This is wonderful and the results of the trauma-expansion-method are so convincing, that I am sure that Shai Tubali's the Expansion Method will be known around the world and thus can lead to profound healing of people and the world. Tamar Brosh initiates this necessary development with her excellent instructor courses. I can recommend her remarkable teaching courses with full conviction."
"I came to Tamar 8 years ago. After experiencing an Expansion session. I underwent a training course and became a certified instructor and added this amazing method to my toolbox as a therapist myself. Tamar was first my teacher and that was when I met her powerful presence. After trying many kinds of therapies during the years, Tamar became my guide and she is my anchor ever since. With her silent, honest, accepting presence and her deep wisdom, she enables me, each time, to become closer to myself and the truth in me. Tamar helps me to direct myself better in life and evolve and flourish. Anyone who wants to touch one's self and grow without compromises, Tamar is the guide and teacher I recommend with all my heart."
"I was working with Tamar for two years. We worked on healing childhood traumas and hidden memories of trauma, and I could let go and set myself free from limiting patterns. We worked on my will-power and got to empower my presence in life the inner silence. The process with Tamar was amazing and a very significant part of my developmental path and of being who I am today.
Tamar is a wonderful therapist, full of wisdom, love, sensitivity and a deep knowing of the human psyche and consciousness. I warmly recommend her sessions and courses".
"As a Certified Expansion instructor who worked with dozens of people, I can attest to the undeniable fact that the white light trauma techniques are the real miracle and backbone of this method. Traumas are revisited in a safe space, understood in a liberating and transformative manner and become a source of power and growth rather than weakness and hindrance. I had the privilege to also work privately with Tamar.
Her guidance is simply one of the best ones I know (and I'm a very picky and critical person).
With Tamar you're in good hands and will get a full-package treatment."
"Trauma can be life-changing events by limiting certain areas of our life. Untreated they can stay with us all our life. Often, we are not even aware of them.
The specific Expansion-Technique for Trauma is a wonderful "all-in-one" approach to tackle all major aspects of traumata. A session is rather long and intense, but equally thorough. You will get to know the content of your trauma and by growing awareness, you will be guided through a transformative shift of perception of whatever happened to you. This enables a re-establishment of your state of being before the trauma situation, being an equally life-changing event again – just in a positive direction this time.
I experienced Tamar an overly empathic, trustworthy and experienced guide in this process. Facing such traumata can be challenging enough. Having a good guide becomes important then."
"Tamar is a rare therapist, I am always amazed by her sensitivity and depth of insight. She is gifted with the subtleties to observe the most elusive and deep aspects of the psyche and the inner and external conflicts. She gives you the space you need, she gives you validation and legitimization and also sheds the light of consciousness on every aspect that is being looked at. Tamae is soft, loving and compassionate but also very direct, straight-forward and uncompromising. She also has the rare ability to express herself in simple words (that stay with you in the heart and one's memory), and she can formulate the things I could never even begin to say in words, which is so powerful and helpful. Each session with Tamar is a courageous conscious dive into myself and an invitation to connect to the heart and the very essence of the discussed issues. At the end of a session, I always feel as if I am breathing into my authentic self, more connected to my emotions and the "greater picture" and feel able to look at my life and my challenges and handle that with much more optimism, awareness and connection to the heart."
"I don't believe in spirituality and see myself as a scientific person, very rational and pragmatic. I felt a loss of control in my life that was bothering me very much and massed with my stability and felt I had enough after 35 years. I tried some conventional therapies which led to no essential change and frustrated me. I received a recommendation from a very close and trusted friend who is as rational as I am and I dared to try despite my initial resistance. I called Tamar and she shares with m her light. Tamar is a very wise woman, and simply amazing in her ability to recognize points of weakness and giving it a whole new point of view, something that I have not been able to recognize or see by myself. I cannot explain what exactly happens in the sessions with her but it is simply life-changing. Through her guidance and presence, I can go into a very wide and clear state of consciousness and look at all the traumas and obstacles that dragged me down all my life and stopped me from doing things, and then all those heavyweights turn to light feathers and disappear. I recommend Tamar whole-heartedly if you want to transform and feel light and powerful. "
"The Expansion sessions enabled me to untie patterns quickly and deeply. Each session I felt a great sense of relief that was growing every time. I went through an incredible journey with Tamar who showed great sensitivity, wisdom and precision and at the same time she was gentle and aware of my personal progress and moved on with me hand in hand with compassion and love. Thank you, Tamar."
"Tamar Brosh is one of the most exciting and effective therapists I know. Her big, all-understanding heart, paired with brilliant clarity and the ability to name the essential, have always created space in me for fundamental and sustainable transformation processes. These processes have changed my life so much for the better that I am grateful to Tamar from the bottom of my heart. I highly recommend her. "
"Before I came to the Expansion therapy, I heard of the many virtues and attributes of the method but I haven't yet experienced a deep and meaningful process myself. from one session to the other I began to feel that I was getting in touch with depths I didn't know I had in me and that I was touching painful places within me that seemed till then unsolvable. Today I feel that the time of the sessions was one of the most significant times in my life and in my development process as a person and since then I feel that many breakthroughs had took place in many aspects of my life that before were experienced as blocked and unclear to me. Beyond that there is no doubt that due to these sessions and my work with Tamar I acquired powerful and applicable tools for the everyday life that help me with my inner challenges and life in general. Tamar was embracing containing and loving and I felt that in times of abstruseness she knew how to rightly direct me back to myself and to listen gently to who I really am. There is no doubt she is a very perceptive guide who lives and breathes the Expansion Method."
"I came to Tamar after I couldn't control my anger anymore. I had rage attacks which made things very difficult for me and in my work. It wasn't an easy process to see myself and to connect to self- responsibility and self-control.
During the years I built high walls around my heart so knocking them down was hard; but with Tamar's professional and intelligent guidance, with her sensitivity and warmth, and mainly with her full trust in me and my ability to change, I saw into the roots of my frustrations and learnt how to stay present in challenging moments with colleges and friends. This change is truly amazing and I am deeply grateful for it".
"Tamar is truly one of the most loving and caring people I have ever met. From our first appointment on I felt at home and was able to express myself and feel myself like I really am – and from one session to the next I was able to learn even more about myself in new and surprising ways. I´m so grateful for all these profound experiences and revelations!"
"After two years of intense work with Tamar, I can say that the person I wanted to be is finally here. I am not perfect and I can still lose my temper from time to time but I can manifest and express everything I longed for and wished for. I feel so high. All those sessions completely paid off because the more developed version of myself, the one I used to meet time and time again in the expanded states during the meeting with Tamar is now stable and present. I feel proud of myself like never before. I went through complex challenges and was able to handle it all so well. I understand myself and my path much better and I don't look for confirmations outside anymore. I see the people around me and how they behave and I can reach them and create together with them everything I need. I came to Tamar broken, weak and longing for a child, exhausted after failing to get pregnant and feeling as if I had lost any control over my life and Tamar gave me back the power and the ability to control from a calmer state of mind. I feel I should be Tamar's "poster client" because I am a real success and the direct proof of her abilities as a therapist. Thank you, Tamar, from the bottom of my heart."
"I had a pleasure of working with Tamar for a period of three years, from 2017 to 2019. Tamar possesses a unique combination of depth of insight, infinite compassion and sharpness of a zen master. Tamar helped me through a major depression and into a new, infinitely more fulfilling life. Tools and lessons Tamar has taught me are with me everywhere I go. In the beginning I was reluctant to start working with Tamar, as I am used to face-to-face work and her sessions are conducted by Skype. To my surprise and delight, after two minutes of a conversation I did not remember anymore that we are sitting in two different countries. I would recommend Tamar to anyone who wants to heal, grow and live a life of purpose and connection."
"We wish to warmly recommend Tamar Brosh as an instructor in the Expansion Method and as a teacher. ​We had the pleasure of learning with Tamar a 12 meetings course in which we learnt to work with different Expansion techniques, we learnt about out subtle anatomy and chakra-system, and we learnt to meditate. Tamar gave us excellent tools for self-understanding and self-empowerment and we experienced first-hand the amazing healing potential of these tools. Tamar has an amazing clear, practical and yet deep and profound way to teach and we marveled each time at her ability to see and expose hidden patterns and explain them and also at her openness and outstanding generosity, warmth and love. " 
Ronit Ben dov – clinical psychologist
Avital Lahav – therapist
Etty Granot – art teacher
Micky Garber – teacher and therapist
"Dearest Tamar,
How can I write only a few words about the last six months of my life, during which I went through an eye-opening, maturing, awesome and empowering process…?
I recommend you to all my friends and acquaintances, as the best therapist I have ever met, and I've met quite a few…
You work from the very first session and everything in the process is focused on moving forward and progressing. Each time I would bring up a topic after having discussed it with myself, friends, meditation, being sure that that's it, there was nothing more that can be done – a dead-end, and then – you. Explaining, reflecting, telling me where it comes from, expanding and connecting another piece of the puzzle called life. I was amazed again and again with the knowledge you have. No matter which issue I brought up, you knew how to crack and solve it.
Only six months and we're saying goodbye. Six months of a journey of a person (me) with a very complex and unreasonable life. You helped me retrieve the quality of life that disappeared for a while, get back my energies, go through depression and manage my life again the way you can only after having solved those entanglements and binding ties that could have accompanied me for my entire life.
I'm happy again, even though the world is a crazy place. I feel strong. I feel I had resolved something so meaningful that will allow me to live the life I want to and actually, it's already happing .
I can't thank you enough. Really.
I'm so happy you're in my life. Just knowing I can fix things with your help is a great comfort.
You're simply amazing."
"As I entered my journey with Tamar, I had many doubts and fears. I didn't know what I was getting into, especially as this process was done on Skype and I wasn't sure if it will work. In retrospective, it is great to be treated while you are in your comfort zone at home. Already as I was filling Tamar's questionnaire, I saw something different compared to the other therapists I worked with. This questionnaire is very comprehensive, and it forced me to answer it in the same spirit and it allowed my first session with Tamar to be intimate since the feeling was, we already knew each other for a while and it made me feel safe. 
One of the main objectives of the process were to let go of emotional pain that caused physical pain, a solution for my repressed anger and childhood traumas. I remember that when I told Tamar about my childhood, two important things happened. The first was that she knew how to make me understand that what I have been through was traumatic and had deeply affected my life since I didn't understand the full extent of these childhood experiences and overlooked it. the second was my ability to focus on each traumatic experience and relive it, talk about it and see it anew. I could change my old and mostly unconscious interpretation of the experience and instead of seeing myself as a victim, I saw myself as a hero. This new vision had opened new horizons in me and led me towards a whole new seeing and understanding of my past.
And the most powerful thing is the Expansion technology and accessing a meditative state. Bottom line – this made the difference and enabled my healing results. I didn't hear about the Expansion before, but I am one person who believes that success requires journeying into the deepest layers of the human mind and psyche. It is also crucial who is the one you choose as your guide, and here I trusted Tamar completely. Our connection only grew stronger along with the sessions and her relaxing, yet empowering guidance gave me the assurance that though this is unfamiliar territory, I am not alone, and I need not be afraid.
She gave me the feeling I could fall apart and be vulnerable and she was there to help me pick myself up and contained me all along. When I began the expansion process, I was initially distracted and felt unfocused but gradually, with Tamar's guidance, I could dive deeper and deeper and get in touch with hidden layers of myself. I found the truth and revealed repressed emotions I had hid so well. The expansion helped to unveil these emotions and expressing them in a most relieving way. It felt like coming out of my own created prison, the prison of the unconscious and bad habits. I felt I was releasing irrational behaviour and unreasonable patterns of thought. It felt like going down to the depth of hell, into the darkest dungeon and pulling myself out into the light, back to life. I got rid of all the fury and the most important thing – I loved myself, contain and accept myself as I am. And I feel the difference in my everyday life and my daily challenges. I don't allow negative emotions to develop and feel more aware of what I want and what is right for me. I can decide not out of fear but out of courage. I forgave and could see that the real self is made of love. I released the childhood traumas, even those I was not even aware of and with every day grew stronger and happier. Today I continue to work with the tools I had received from Tamar and even though nothing is ever perfect, and life continues with all the hardships, I am at peace and I can handle it all better."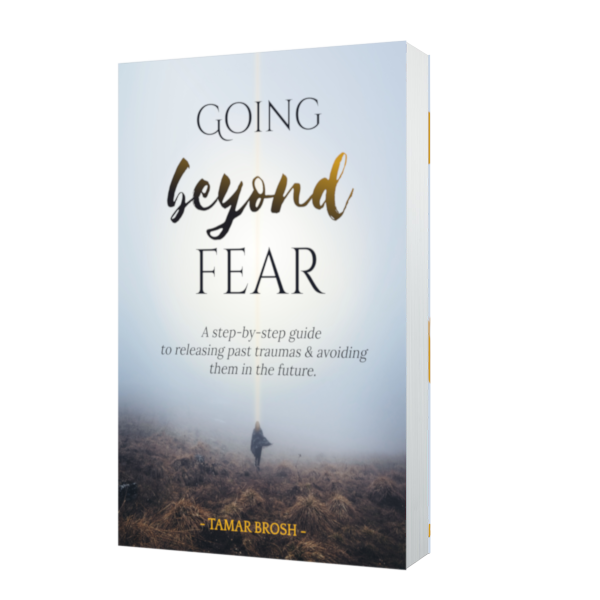 * Download your free guide *
Going
Beyond Fear
Discover the essential steps to create a life free from negative imprints and be totally free. Just enter your email address to receive the eBook. (You will also receive a monthly positive and inspiring love note. You can unsubscribe at any time.)